Planky and bellyboarding in Europe
---
France
---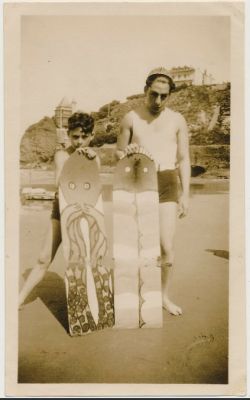 Unidentified, Biarritz c1920s
Likely the earliest photo of a planky in France
Photo courtesy Charles Upton
Two world wars, Nazi occupation, post-war depression and cold winter conditions are a backdrop and barriers to the development of surfing in France. Like the debate as to who first developed the modern shortboard, there is no agreed upon history of early French surfing. Photographic or contemporary accounts of surfing before the 1950s is difficult to obtain. Two early surfers are reported to be Françoise Hiriart Delanne and Jean Saint Jean. Hugo Verlomme's 85 years old uncle is Jean Saint Jean, founder of the French Surfing Federation. Verlomme (2011) recounts that "In 1935, Jean was a friend to the Roederera from Normandy who also had a property in Hossegor. Verlomme writes "His friend (Roederer) had married a US lady, whose brother was coming to Hossegor for summer from Southern California. When he saw my uncle playing in the waves, he offered to bring back a planky from the States, which he did. It was a plywood planky with a string on the front to lift the tip like a ski. You could regulate the lifting with the tension of the string. Nobody had seen anything like it in the area at that time. And then by the 1950's, many plankies were available, at first flat, with no lift". In 2005 Zuberoa Andrés (2011) interviewed Françoise Hiriart Delanne. Delanne's father (Justin Hirirart) had studied in Hawaii in 1912 and taught his children to surf. Two years older than Jean Saint, Delanne's father had a winery and is reported to have made a surfcraft from the wood from wine barrels.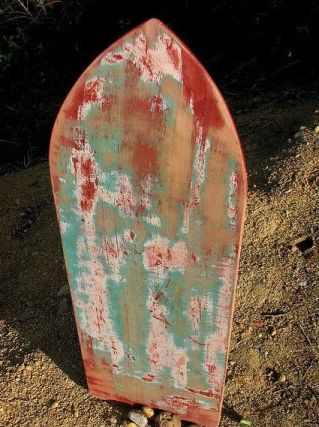 1952 plywood bellyboard: It measured appx 100cm 40cm resistant plywood.
"Concerning the ride, as speed increases the front of the board rattles and skips on the wave going straight until the rail is stuck in the side of the wave."
Photo and caption: Florent Palangié
The lack of contemporary documentary evidence makes it difficult to verify accounts. For example, 'The young coungatataous of Seignossein' is an account of "young sap-gatherers" around 1896, riding logs that were washed ashore. The halved logs were reported as being known as Coungates after a tool used to work wood and their riders the Congatataous ( Alibert & Alibert 1978). No other known documentary evidence supports this account. Possible influences upon French surfing were England where surfing was known from the nineteenth century as well as exposure to the U.S and Hawaii. Surfing was known in Jersey after World War I and Australian soldiers were reported to have surfed in South-West France (Oxenden 2011): "Nearly two years ago we had a European comp in Jersey , some of the French said that they had heard from very old people that some Australian servicemen belly boarded in the south west of France during WWI"). Another plausible but unverified account.

Georges Hennebutte

French planky. Photo courtesy Daniel Creignou.

Henri Poncini with a planky, 1958.
Photo from 2007 Anglet exhibition courtesy of Antony 'Yep' Colas.

Planky on the left and Spanish planky on the right.
Photo courtesy Daniel Creignou.
The most well-known board was the planky or plancky which has been described as a " plywood light board, one meter long, wider than the body, and curved like a ski" (Verlomme 1976). The planky was like a smaller version of an English bellyboard and its development has been attributed to the innovative Georges Hennebutte. The son of Henri Hennebutte an industrial chemist, Georges Hennebutte was a sculptor, designer of the Swordfish (the l'Espadon, an inflatable boat), a surf leash, life saving devices and many other inventions. In a January 1974 Cape Sud article he is quoted as attributing his interest in life saving devices to his early life experience: "They are, he says, the stories of shipwrecks and the view that, in my childhood, I was deeply saddened. I have often heard in my family, a grandfather died at sea and I saw the top of the Atalaye where I lived, heartbreaking tragedies that have really struck my childish imagination." In 1925 (at age 13) he is credited with making a cork aggregate surfboard and many years later, repairing the board of Peter Viertel, who brought a malibu style board to France in 1956 (Barland surfboard website).

French LEC planky from Royan.
Photo by Pierre Mennesson

Jacky Rott with his blue planky and the board used as a mold
Photo Philip Zibin
Gardinier (2004) cites Hennebutte's nephew Claude Durcudoy: "In the 1930s, George Hennebutte had the idea of following a wave with a board. Thus was born plancky. With a friend, George went to the store Biarritz Happiness (today Galeries Lafayette), retrieve the plywood that was used to wrap the fabric. As they were flat, the pair moistened one of the two ends are then placed counterweight to give a curve. Then they improved the process. ' Gibus de Soultrait (2012) met Hennebutte in the 1990s and was told a similar account but added that the nose-lift idea came from a ski and that at the time the planky became a means to enhance the Biarritz bodysurfers wave riding. Another account is that the inspiration came from seeing a movie in 1925 of children riding waves on tree bark (FreeWave, undated).

| | |
| --- | --- |
| 1962 Surf Atlanique advertisement for a planky (Le Surfy) | Magazine courtesy Guilhem Rainfray and Phillipe Zibin. |
Planky's were manufactured commercially and advertised in the first edition of Surf Atlantique (Surf Atlantique 1964) along with a skimboard, both sold by the company Epiland. Two known manufacturers were Sosthène Larcebeau, a retired French Railways carpenter from Bayonne, credited with producing hundreds of plankys. These boards were reported to be molded plywood (90 cm long and 40 cm wide, or 35 x 16 inches). Larcebeau also manufactured pelote (a Basque racketball game) equipment (Barland surfboards). Jacques (Jacky) Rott, who was also associated with Barland surfboards, was a cabinet maker and planky manufacturer. He is said to have made plankys around 1952, which were distributed at the beach. Miramar was cited as a spot of choice. (Colas). Jacky Rott corroborated this information in a surfing magazine article (De Soultrait 1998).
| | |
| --- | --- |
| Sosthène Larcebeau planky, c1960. 98 x 36 x 0.8cm | Sosthène Larcebeau planky. Photos courtesy Gérard Decoster |
In a 1962 Surfer magazine article Joël de Rosnay (de Rosnay 1962) was described as an avid bodysurfer and bellyboard rider. De Rosnay first rode a planky around 1950. "I started to use the planky when I was 13 to 16 years old at Plage Miramar, in Biarritz, with my friend Philippe Gerard. That was before I started surfing (at 20 years of age, in 1957). We used plankys built with locally made plywood. I think Jacky Rott was one of the first producers. We also did a lot of "disco," a plywood round "planky" of about 90 cm (35 inches) in diameter. We used to throw discos on very shallow waters at low tide on flat beaches while running, in order to slide standing-up or flat on our tummy, for 100-200 meters (de Rosnay 2011). Michel Barland described riding a planky at beach of the Côte des Basques with a friend, Henri Etchepare, before making his first stand up board (Barland surfboards).

Home made 1960s plankys. 101x 30 x 0.5 & 61 x 24 x 0.5
Photos courtesy Gérard Decoster

Uhaina Po planky 2017. 115 x 38 x 0.8
Photos courtesy Gérard Decoster
Hennebutte continued to consider other surfcraft options. In 1985 he sought a patent for a 'Board for aquatic sports'. The board was designed to ".. during displacement across water, direct a jet or shower of water at the abdominal region of a person lying on the board".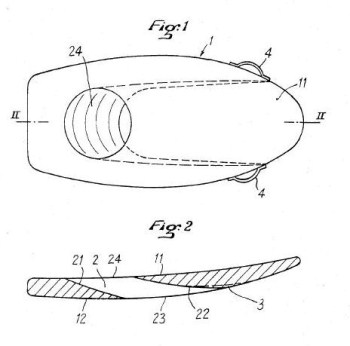 Board for aquatic sports. U.S.Patent No. 4,507,094.
Washington, D.C.: U.S. Patent and Trademark Office. Retrieved from www.freepatentsonline.com].
The planky idea was resurrected in 1997 in the form of the FreeWave board (a 10 mm thick "thermoshaped" board with a foam deck). The patent for this board was taken out by Philippe Puyo of G + S.A.R.L of Bordeuax in 1998. The Freewave planky website also refers to a 1950 planky championship, however, no information can be found about this championship. The more contemporary re-incarnation of the planky has been made by Uhaina Po from Bidart and through interest in modern versions of the Hawaiian alaia.
| | |
| --- | --- |
| Phillipe Puyo patent, 1998 | |
| | FreeWave planky c 1997 |
Table of contents